WWDC Part Two
Pacific Time is eight hours behind Greenwich Mean Time, so after a couple of hours of intermittent sleep I awoke and just stayed conscious. Four AM is lunchtime back home, so although my brain felt wide awake, my body was still in a bit of turmoil as to what exactly was going on.
Down at Moscone the guys who I'd seen the night before setting up their chairs, sleeping bags and tents for an all night vigil were probably at the head of a queue that no doubt spanned almost all the way around the block.
Getting a seat near the front at the Apple Keynote for WWDC is taken pretty seriously by these guys. I toyed with the idea of going there at 5am, but as I still wasn't registered I'd have to leave the queue anyway to get my lanyard, losing my place, so I decided to leave it a bit later.
I waited until it was around seven o'clock before I wandered down. I'd found out that a nearby Target discount store was open at seven and I wondered if I might get an adaptor for charging my phone there. I wasn't open when I arrived, so I went over to talk to some of the people waiting patiently in the line. The queue then just suddenly lurched forward, with a cheer at the front and that was the centre open. I went and joined a different relatively short queue to get in for registration and was pleasantly surprised to find out that we all got a free (well…) WWDC14 jacket.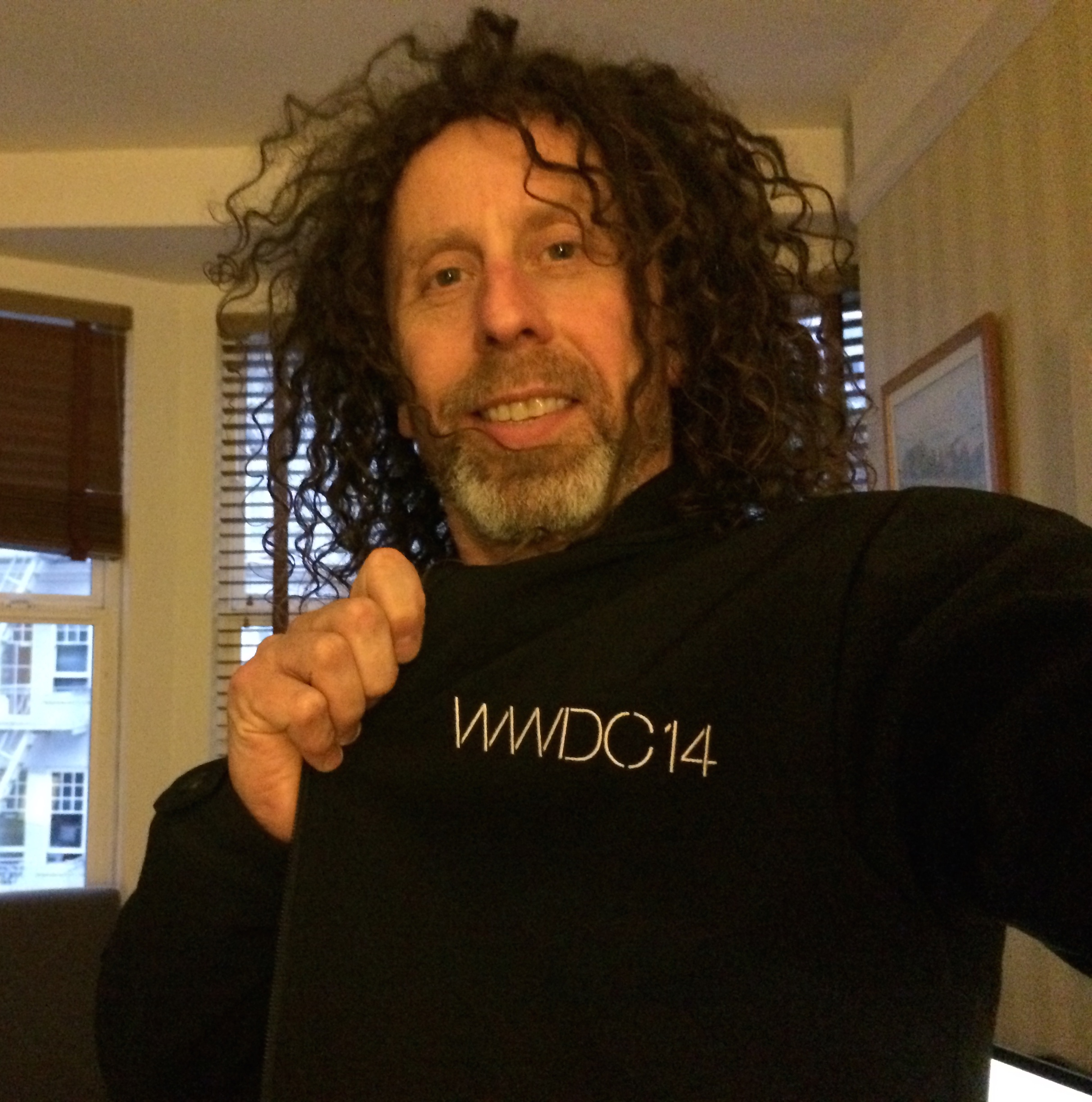 I, for one, am damned pleased with it.
I decided not to join the main queue to get into the building proper just then, electing instead to go back to the hotel and don my new attire, leaving my old jacket there to save carrying it around. Walking back down, I felt part of the Apple "army" of attendees going around the place with similar jackets on. Really felt like I was part of a kind of club, or some kind of weird nerd gang, or something.
So I got back down and joined the big queue, before finally getting in to join yet another queue (see the theme I was talking about?), ending up in a "holding pen" from which we eventually got into the Presido hall where the keynote was taking place.
I actually enjoyed the holding pen bit, because I got talking to a girl beside me in the queue who was not only an Apple employee, but specifically the employee responsible for the marketing and management of the new MacPro that was released late last year. I tried turning on the "old magic" with her, but as usual I was doomed to abject failure once again. Imagine having a high ranking Apple employee from Cupertino as a girlfriend? Nah, me neither. Nae luck.
The keynote started and I'd found a seat next to a really nice and polite young Chinese girl who lived and worked in Japan. We had a stilted conversation, due to the language barrier, about the excitement of the conference, but ultimately I think she was scared of me, judging by her body language. Could just have been that she was leaning out into the passageway to get a better view, of course.
So everything was revealed. No new products, as we'd came to expect from the last few previous years at these events. Every announcement was probably boring the mainstream media to sleep, while at the same time being music to the ears of the assembled developers.
The main topic that excited everybody was the surprise revelation of a brand new programming language - [Swift](http://en.wikipedia.org/wiki/Swift_(programming_language)).
The rest of that day at Moscone was spent figuring out which of the over one hundred sessions I wanted to go to, after hearing the less media friendly, more suited to developers "Platforms State of the Union" announcement. I was really feeling the lack of sleep, but felt a lot less stressed out after finding my bearings and getting my pass for the conference. Sleep was what appealed to me right there, but I had already organised something else.
There are a lot of parties to go to after the sessions finish for the day. Being San Francisco, Silicon Valley, the place where all the start-ups happen and arguably the centre of the technology universe, lots of companies have their yearly get togethers at this time. Although I daresay they dont need an excuse to hold a party at any developer's conference, whether it's Apple, Google, Microsoft (WWDC, "IO" and "Build" conferences respectively) or whoever. I'd managed to get a pass for the 5by5 meetup. 5by5 is a podcast network I'm fond of. I listen to a lot of their output while roaming around in my van.
This meetup was on the Monday night, so I found out where it was and went down. It's really weird meeting someone in person like that. Dan Benjamin was a bit shorter than I imagined and Haddie Cooke was a tiny, petite wee girl. Such beauty and no doubt the focus of many a nerd's dream.
I knew absolutely nobody there, of course and after years of meeting people in bands I was fully aware that when you meet these "stars" then inevitably turn out to be ordinary, quiet people. I met Dan and Haddie but didn't linger around making small talk. I just grabbed a beer and some pizza and ended up talking Scottish Independence with a nice chap from Minnesota. I think the verbal diarrhoea kicked in though, because by the end I think the guy was looking for a way out. Comes from not talking to a lot of people during the day, I reckon.
I should get out more.